TFO offer, the latest trends in ceramic wall tiles all at discount prices.
We at TFO offer you an extensive range of wall tiles at discount prices, as well as porcelains, natural stones, travertine tiles and pavers. All our products are at discount  prices all year round because we sell high volumes at low margins. Our experienced team offer product knowledge and technical information, colour consulting, layout and fixing advice delivering you the perfect wall solution for your next project.  With so many tile choices available, making a decision can be over whelming. So, to help you we are bringing you the top 5 trends in wall tiles.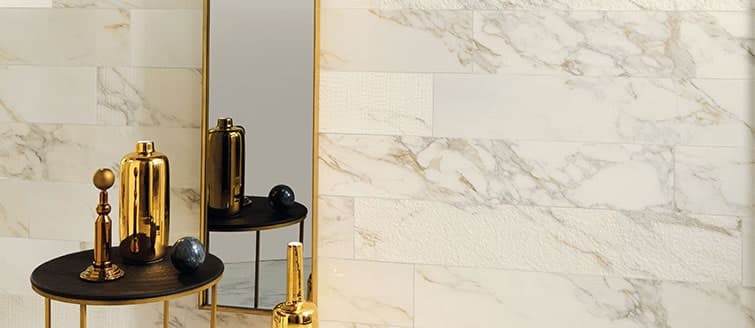 White Ceramic wall tiles, gloss, matt, wavy and bevelled.
1. CONTEMPORARY STYLE.
White wall tiles are still the number one choice and are very affordable starting from just $10m2. The most popular size is 300x600mm in either a Gloss or Matt Rectified finish. White wall tiles make your bathroom space appear larger and brighter. Ranging from interesting shapes such as hexagon and lantern, to subway tiles in 75x150mm 75x300mm, 100x200mm and 100x300mm in Gloss, Wavy and Bevelled Edge options. The larger format of 300x900mm is also gaining popularity and is a great choice for larger bathrooms.
2. PORCELAIN WALL TILES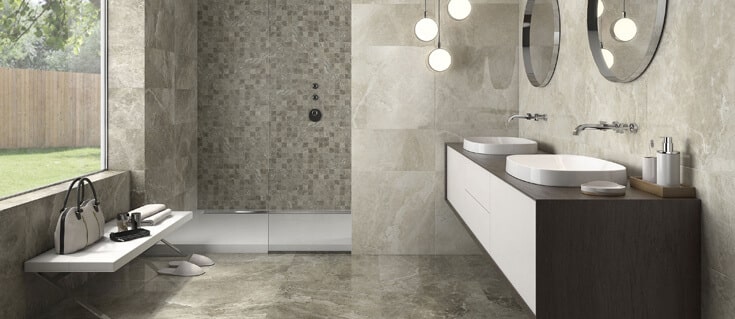 A popular choice of wall tiles in Sydney is porcelain stoneware tiles for those who love the look of natural stone but do not want the maintenance. With the latest ink-jet technology, manufacturers are now able to emulate the beautiful character of natural stone in porcelain wall tiles. Stone look tiles are produced in a wide range of designs to mimic Carrara marble, Sandstone, Travertine and more. Unlike real natural stone, stone look porcelain wall tiles are extremely durable and virtually maintenance free.
3. Timber Look Porcelain Tiles
With the urban expansion of Sydney inner city living it is no surprise that this style is on trend. Timber-look and concrete-look porcelain wall tiles imbue a style that is both personal and modern. Timber Look Porcelain wall tiles come in a plank format in a variety of finishes and large format sizes, perfect for creating a spacious inviting look. This style can also be achieved by using concrete look large rectified wall tiles. Both timber look and concrete look porcelain tiles can add an understated wall feature to any bathroom, kitchen or living space.
4. DECORATIVE TILES
Decorative tiles are used more often as features in bathrooms, kitchens and living spaces instead of using wall paper. At TFO we offer a wide range of the latest trends and styles in decorative tiles and mosaic options including 3D designs, stone look, metallic look and fabric look glazed porcelain tiles. We offer a large range of mosaics in natural stone, glass, metallic, resin and glazed designs in the latest shapes to personalise your project.
5. TRAVERTINE WALL TILES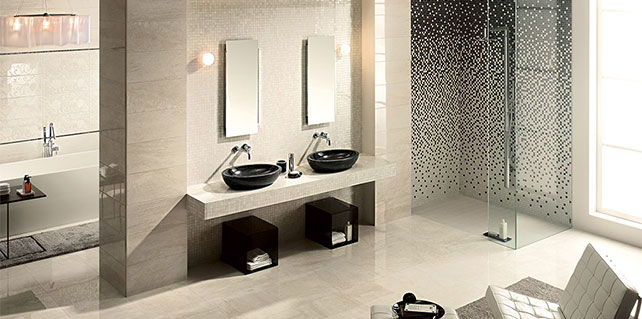 Travertine is a popular choice among designers, architects and homebuilders as it is elegant and timeless. Travertine wall tiles are available in a mixture of colours, sizes, thicknesses and surface finishes and are commonly used as wall tiles. Popular uses of travertine include bathroom walls, facades, barbecues and pool areas and as wall tiles for kitchen.
Travertine wall tiles add warmth and value to any space. The soft cloud patterns created in cross cut Travertine wall tiles are ideal for creating a relaxing backdrop against any free-standing bath. With this popular trend Stackstone is used as feature walls both internally and externally.
Buy for wall tiles now online at www.tfo.com.au or visit us today at 107 Warren Road, Smithfield.
Cheap Wall Tiles
Wall Tiles Find out below for more on
Glazed Porcelain: These tiles have all the advantages of ceramics except a little more expensive. They usually have better and more modern designs as factories that invest in better designs want to try to attract them to a more discerning market with more money to spend thus Glazed porcelain wall tiles are amongst the most common new wall tiles sold. The disadvantages of glazed porcelain is they do not reflect much light or at least not to such a deep level as polished porcelain. That being said polished glazed porcelain goes part of the way to overcoming this problem. Glazed porcelain is a great choice if your bathroom is a decent size and your most important priority is athsetics as glazed porcelain has almost unlimited colour and pattern range. Lately many factories are using digital technology to make glazed porcelain look like timber or marble with amazingly realistic results. As eral tip the Italians make the most stunning designs. At TFO the Italian glazed porcelain is well within reach of even the tiniest budgets.
Polished Porcelain: Whilst limited in colours they do have a deep reflection of light and are super hard to chip once laid. They are made with natural porcelain fibers and have a slight disadvantage of looking a little hazy when sunlight glances on it but overall it's one of the nicest looking products on the market and great for small bathrooms. Many that have used it will tell you the anti slip properties are surprisingly good if used on the floor in a bathroom. This is because unlike a glazed surface water does not make it like an ice skating rink when wet. If resale is your goal this tile is for you Polished porcelain gives one of the greatest bang for buck for any renovated bathroom. They are super durable and long lasting however sometimes they need a mosaic to add colour and appeal.
Mosaics: Mosaics are made from small pieces of porcelain, marble, glass, metal products and natural stone. These tiles are great to create a feature wall, border or vertical strip. Normally super expensive thus limiting their appeal TFO has a wide range at $10 a sheet. The disadvantage of mosaic is they create extra grout joints which can make them harder to clean. We have additives to help you use them in a shower ask us how.
Splash Back Wall Tiles for Kitchens
Travertine: A highly sort after natural product that adds amazing natural beauty as no two tiles are ever the same. Each tile has been formed over thousands of years they are created when limestone deposits combine with natural springs underground, this creates an aerated or holy look (has a lot of holes, not religious). As they are formed through absorption of natural properties (its porous) a quick seal is recommended after laying sure seal has a sealer that lasts a lifetime on wall tiles. See the TFO staff for more info. TFO has a large range of polished, tumbled or honed finish travertine with holes or with their holes filled. Either way check out our prices by clicking TRAVERTINE.
Natural Stone: In this category I will include Marble, Limestone and granite. These are natural products that like the above travertine require a quick seal before use. Whilst it costs more to lay than many of the above options, nothing really compares with natural stone. Lately stackstone  has become more popular as an internal or external wall tile. TFO has a wide range of these products.
We are sure the above has been of benefit to you in choosing the type of tile that best suits you. Now for information on preparing for installing wall tiles and choosing colours, we encourage you to come in and talk to TFO's own colour consultants. Yes that's right, TFO has colour consultants. Many have said that they didn't expect to get that type of service when the prices are so cheap but we do. Come in and see for yourself.