WHY visit Tile Factory Outlet?
Looking for brand-name tiles at a fraction of the cost? Welcome to TFO – the Tile Factory Outlet.
TFO stocks one of the biggest selections of quality wall and floor tiles in Sydney with over 70, 000m2 of brand-named porcelain, ceramic, and travertine tiles. We really know our tiles and we sell them REALLY cheap.
Since we are a factory outlet, our tiles sell really quickly – so you need to take action now if you don't want to miss out!
It's well worth the drive to save heaps on your tiles.
FEATURED PRODUCT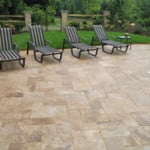 Travertine can be used as wall and floor tiles, bathroom tiles, and outdoor tiles. For use outdoors, TFO recommends using Travertine Pavers.
Travertine can come with honed (smooth) or tumbled finish. Some people go for the tumbled because it adds an antique (worn look) feeling to the tiled area. As travertine is a natural stone, it naturally has holes in it. Because of this, you can get travertine filled with cement or an epoxy grout; or you can go with the natural unfilled travertine.
Regardless of which travertine you buy, you can be sure that it will transform you living areas in an incredible way. Drop into TFO this month and pick up travertine for as low as $28m2.
Click here to see some of our best travertine products and travertine prices.
Choosing Your Tiles
When it comes to choosing your tiles much needs to be taken into consideration. While most people have an idea of choosing the colour that would best suit their home, many are unsure of what's more important – the type of tile best suits them.
Below are  some of the advantages of the tile types.
Great for anti-chip and light reflection. Will make any area look bigger open and more spacious.
A great natural product it will add class that will not date.
The typical tile sold in Australia. This suits the budget conscious.
Strong and ascetically stunning as your colours are almost limitless.
A natural product that can come in both honed and polished surfaces.
There is much more detailed articles on these products that can be found on our site. Also simply by coming in and asking our knowledgeable staff they can help you understand how you can buy a tile that serves you well for years to come.
* TFO employs an interior designer if help is needed in this regard.