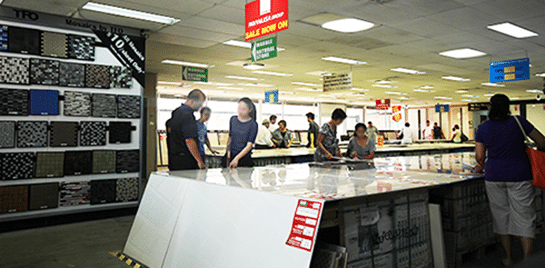 Tile Factory Outlet Sydney – Huge Savings on Top Quality Floor Tiles and Wall Tiles
If you haven't visited TFO, you have missed Sydney's most affordable prices on floor tiles, wall tiles, travertine tiles and pavers as well as marble. TFO doesn't stock the cheap and nasty, just the cheap with a wide range of tiles and travertine including brand-named Italian factories, European natural stone factories and Indian sandstone.
TFO's prices are designed to shock you (in a good way). Items worthy of note are our porcelain tiles, ceramic tiles, Turkish travertine tiles and marble tiles which are stocked on-site for an immediate pick up or delivery. TFO also gives you the assistance you need with over 100 years of combined experience in tiles and interior design. (Our service is not what you may expect from a factory outlet.)
So if you're looking at building or renovating, you've come to the right place Buy the tiles you love at prices you can't resist at Tile Factory Outlet.
Visit our showroom in Sydney (Smithfield) today or buy tiles online. But be quick, our stock runs out fast.
Featured Tiles of the Month
Choosing Your Tiles
When it comes to choosing your tiles many things need to be taken into consideration. While most people have an idea as to what colour they want, many do not know what type best suits their home. Below are some types you can find at TFO.
Travertine, caused when hot springs mix with Limestone, can be the perfect natural stone for the Australian home. Having been used for century's throughout Europe, Travertine is long lasting and durable. The 12mm travertine tiles can be used both internally and externally in your home and is said to bring a feeling of warmth. TFO has Sydney's biggest range including polished, honed and tumbled travertine and TFO is famous for having Sydney's lowest prices. In fact, many find they can buy this stunning product from TFO at the price other shops sell the imitation porcelain. No longer is travertine just for the rich and famous. One of the best features of travertine is that it looks better the more it wears. Look at our prices on travertine tiles by clicking here
Travertine pavers, normally 30mm thick, are an incredible choice for your outdoor areas. There is nothing like the feeling of travertine under your feet. Even if you think your budget won't stretch to travertine pavers, it's worth taking a look at TFO as we sell these naturally beautiful outdoor pavers at a fraction of what others do. Many of our happy customers have said for the price they paid at TFO, they could only buy concrete pavers at other shops. Yes, we are not like other shops. We are an Outlet designed to give you real value for money. Why not take a look at our TFO Travertine Paver Prices...
Polished porcelain is a great option for wall and floor alike as it has excellent anti-chip properties. It has grown to be one of the most popular types used in Sydney, One reason for that is it is very light reflective. This helps it make any area look bigger, open and more spacious. TFO has a great selection of polished porcelain.
The typical type of tile sold in Australia. This suits the budget conscious. It consists of a biscuit (normally red in colour) with a glaze over the top. They are known for their wide variety of colours.
Strong and aesthetically stunning as your colour choice is almost limitless. As the name suggests, it's a porcelain biscuit, perhaps a white or different colour, then the biscuit has a glazing which is often a different colour from the biscuit. Glazed porcelain is good for walls and great for floors. The latest in glazed porcelain is polished glazed porcelain. They are made with a thicker glaze that is polished making a shiny finish.
A natural product that can come in both honed, polished and tumbled surfaces. Marble is known for its veins. Some of the best known marbles are the Italian Carrara white marble, Spanish Crema Marfil and Iranian Pietra Grey. See Tile Factory Outlet's large range of marble floor and wall tiles.
If you love the look of timber but hate the continual cost of regularly polishing and cleaning, why not try the latest look in tiles? Timber look porcelain tiles are some of the most popular and up-to-date products in Sydney. They are truly amazing. They come with a textured finish and are great to use on floors and feature walls. TFO has the top brands from Italy including Italgraniti, Cerdisa and the producer of Versace Tiles, Gardenia Orchidea. These factories produce some of the most sophisticated timber look tiles on the market but rather than paying over $100 per square meter, at TFO our prices are as low $44 per square meter. For budgets under $40 per square meter, why not try our timber look tiles from Chinese supplier, Lola Ceramics who produce similar quality products which are available at TFO for as low as $25 per square meter. So whatever your budget, save money and see Sydney's biggest range at Tile Factory Outlet.