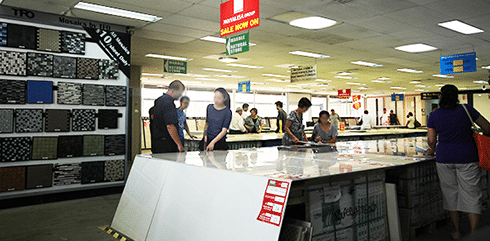 WHY visit Tile Factory Outlet?
Welcome to TFO – the Tile Factory Outlet. Looking for brand-name tiles at a fraction of the cost? TFO stocks one of the biggest selections of quality wall and floor tiles in Sydney with over 70,000m2 of brand-named porcelain, ceramic, and travertine tiles. We really know our tiles and we sell them really cheap. We are a factory outlet, our tiles sell really quickly – so you need to take action now if you don't want to miss out! It's well worth the drive to save heaps on your tiles.
Choosing Your Tiles
When it comes to choosing your tiles many things needs to be taken into consideration. While most people have an idea as to what colour they want, many do not know what type of tile best suits their home. Below are some types of tiles you can find at TFO.
Travertine tiles are exceptionally popular in Sydney. The 12mm travertine tiles can be used both internally and externally in your home. TFO has Sydney's biggest range and lowest prices. Thought Travertine was only for the rich? Think again! Check out our prices HERE
Travertine Pavers:
Many people look for cheap pavers for their outdoor/pool areas. Why not consider travertine pavers? With TFO's incredible prices, this stunning 30mm natural stone paver is perfect for any budget. More...
Polished Porcelain is a great option for wall and floor alike it has excellent anti-chip properties. It has grown to be one of the most popular types of tiles used in Sydney, one reason for that is it is very light reflective this helps it make any area look bigger open and more spacious. TFO has a great selection of polished porcelain.
The typical tile sold in Australia. This suits the budget conscious. It consists of a biscuit (normally red in color) with a glaze over the top. Ceramic Tiles are known for their wide variety of colors.
Strong and Aesthetically stunning as your colour are almost limitless. Made with a porcelain biscuit either white or a coloured biscuit similar to the glaze. Glazed porcelain are good for walls and great for floors. The latest in glazed porcelain is polished glazed porcelain. These tiles are made with a thicker glaze that is polished making a shiny finish.
A natural product that can come in both honed, polished and tumbled surfaces. Marble is known for its veins. Some of the best known marbles are the Italian Carrara White marble, Spanish Crema Marfil and Iranian Pietra Grey. See Tile Factory Outlet's large range of marble floor and wall tiles.
If you love the look of timber but hate both the cost and the regular polishing and cleaning that comes with them, why not try the latest look in tiles? Timber look porcelain tiles. They come with a textured finish that is great on the floor or a feature wall in a bathroom. Check out TFO's wide selection.