Tiles are made of clay or a mixture of clays with other materials such as fine sand and feldspar, then kiln-fired and are a part of the broader classification called "Ceramic Tiles".
There are two main types of tiles: ceramic and porcelain. The main difference between porcelain and ceramic tile is the rate of water they absorb. Porcelain tiles absorb less than 0.5% of water whilst ceramic and other non-porcelain tiles will absorb greater than 0.5%. This is due to the components used to produce porcelain tiles; the clay is denser and so less porous making the fired product more durable.
Porcelain Tiles
Porcelain tiles are made of a mixture of clay, namely kaolinitic clays with fine sand, feldspar, and other components. Porcelain tiles are fired at extremely high temperatures 1250ºC, significantly higher than those required to create a ceramic tile. This process creates a dense, strong, durable tile that also provides a non-porous finish, absorbing less than 0.5%, making them an ideal for areas with increased moisture and humidity in the air such as the bathroom.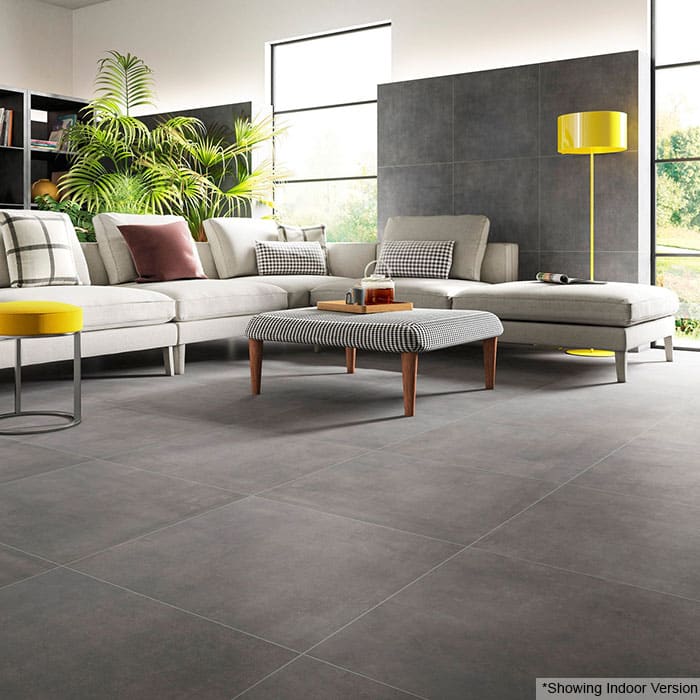 Porcelain tiles have extremely high technical properties and characteristics, such as resistance to heat, staining, scratching, and frost. These unique qualities make porcelain tiles a popular choice as a universal option that is suitable for both residential and commercial use and as both a floor and wall finish. Designs vary from simple, classic that provide endless appeal to the more intricate, detailed and decorative selections that are specifically designed to imitate the look and texture of a natural product such as timber look, marble look or terrazzo look tiles in order to achieve a low maintenance surface finish.
Ceramic Tiles
Ceramic tiles are generally made of natural brown, red or white clays, ceramic tiles are fired at a high temperature. Ceramic tiles are much softer and lighter in weight than their porcelain tiles, making them much easier to cut and drill through. These qualities mean that they are especially favoured for use as wall tiles, allowing better ease of installation of bathroom accessories such as bathroom towel rails.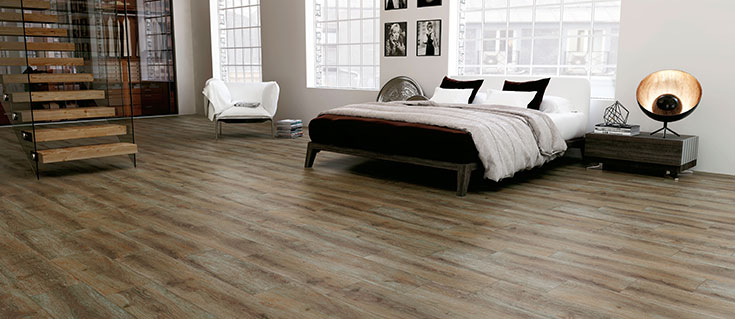 Key Differences Between Ceramic & Porcelain Tiles
There are key differences between these two main types and understanding these will assist you in narrowing down your tile options. Here are the main points to consider:
Price Points: Porcelain tiles are generally the more expensive option of the two however, you will also find many decorative, mosaic tiles or handmade tiles that will be a higher purchase price.
Installation Costs: Being a denser product, porcelain tiles will generally require more time to install to get a quality finish, as a result leading to higher labour costs.
Floor or Wall Use: Providing a softer body that is easier to cut and work with, ceramic tiles lend themselves particularly well to wall use whereas porcelain tiles can be used for both floor and wall applications.
Decorative Wall Tiles: Although there are many wall tile options available in either a porcelain or ceramic tile, you will find many more decorative varieties available in ceramic tile collections, including 3D effects and intricately glazed, relief and etched patterns.
Ceramic Versus Porcelain Tiles
Ceramic
Porcelain
Composition (how are they made)
Made with red, brown or white clay.
Softer and less dense than porcelain.
Made with white clay, sand and feldspar.
Fired at a higher temperature.
Harder and denser.
Pros
Easier to use
Available in more up to date and intricate designs.
Absorbs less water.
More hard-wearing. Frost, fire, scratch, stain, water resistant.
Cons
Can be prone to cracking in cold weather.
Harder to cut.
Applications
Walls and floors.
Home interiors.
Commercial interior walls.
Low foot traffic areas
Inside.
Wall and Floors.
Use on walls depending on weight
Commercial properties – hotels, offices, retail outlets.
Areas with very high moisture levels such as wet areas.
High foot traffic areas.
External use.
Price
Cheaper.
Generally, more expensive than ceramic tiles.
Ease of cutting
Easy to cut and shape.
Can be difficult to cut.
Interior / Exterior use
Interior only.
Exterior and interior.
It's important to know so that you select the right product, fit for the intended purpose. Here is what you need to know about the different types of tiles:
Ceramic Tile
Durable, low maintenance, easy installation, generally low cost
Semi-Vitrified
Ceramic tiles with water absorption 3% to <6%.
Vitrified
Ceramic tiles with water absorption 0.5% to <3%.
Porcelain Tile
Durable, hard wearing, low water absorption 0.5%.
Types of Porcelain Tile
Glazed mat, polished, honed, semi polished and Unglazed (matt, polished, structured).

(Lappato), Polished Glaze.

Glazed Tile
Printed designs, decorative, impervious to water
Unglazed Tile
Hard-wearing, natural finish (polished, matt, honed & structured.
Tile Edge Types
Pressed, cushioned (rounded) and rectified (cut square).
Polished Tiles
Polished with a high gloss finish (not intended to be mirror-like perfect), polished glaze, polished porcelain.
Lappato
Semi polished glazed finish.
Textured Tiles
Natural textured glazed finish with slip resistance, unglazed with slip-resistance.
What Considerations Should I Make Around Size and Shape When Choosing a Tile?
One of the first considerations is the size and the shape of the room/area that you are tiling. In addition to the style, it is good to also factor in the number of grout lines that you will see.
For example, if tiling a kitchen splashback, you may opt for subway tiles to achieve a certain aesthetic, however this will mean more grout lines that may make cleaning more of a focus since they create grooves for dirt or grease to settle in. Alternatively, you could opt for a large format tile that will cover the entire area meaning little to no grout lines at all. Cleaning will be a simple wipe on just the tile versus trying to get in the grooves of the grout.
When considering floor areas, the number of grout lines can create a busy look if a small tile is used in a large room. In a living room, you may opt for an 600x600mm, 800x800mm, or a 600x1200mm sized tile. In a smaller room, you may want to divide the size of the tile evenly to match the size of room so that the grout lines aren't the centre of attention.
Are There Different tiles to Suit Different Style Choices?
With modern manufacturing methods in the production of tiles, digital printing provides numerous, well-known benefits, versatility in graphics and aesthetics. There is a huge range of colours, textures, and patterns to choose from.
Tiles can imitate the look of many different materials such as marble, travertine, onyx, granite, sandstone, limestone, concrete, wood/timber, metal, fabrics, and terrazzo. This means you can have the look of a beautiful marble without the cost of the maintenance of real stone that would require sealing and maintenance. This applies also to other materials such as wood or concrete which would require polishing to achieve the desired finish. As such, varying aesthetics can be achieved with tiles that imitate the look of these materials while also keeping the cost, upkeep, and maintenance of the home to a minimum.
Are There Different Tiles to Suit Different Applications?
Tiles need to be fit for the purpose for the application/installation.
The application of your tile will require the correct adhesive to ensure successful adhesion to your substrate. Please consult our sales team at TFO for assistance on selecting the correct adhesive to use.
In terms of which type of tile for certain areas in the home, there are a few things to bear in mind.
In a general living/bedroom/kitchen floor area, porcelain tiles whether polished/matt/honed/lappato are perfect for these applications.
In a bathroom area, a honed or matt porcelain tile is recommended for a wet area as these provide grip underfoot. Porcelain, marble, or glass mosaics can be installed in a bathroom. Mosaics with a metal component may react to moisture and cause problems later down the track. Natural stone mosaics such as marbles will need to be sealed regardless of the area they are in, but more so if in a wet environment such as the bathroom.
In an outdoor area, specific tiles with a slip resistant surface are recommended.
Ceramic tiles are generally used only for walls, however, there are ceramic floor tiles that can be installed in light traffic areas, for example, bathroom areas.
How Does The Texture or Finish of a Tile Affect Natural Light?
There are various tile finishes; polished, lappato, honed, and matt.
"Polished" tiles have a gloss glaze application and appear shiny under light. This type of tile will enhance any natural light in a room as light will 'bounce' off the tiles.
"Lappato" refers to the process which manufacturers use to polish the surface of a tile. The polishing process may be full or is simply stopped before the entire surface becomes polished, thus leaving some spots unpolished. This results in a surface that gently reflects light.
"Honed" tiles appear to have a buffed finish. They are also referred to as a semi-gloss. Unlike a 'lappato' tile that has spots of polished and unpolished, a honed tile has an even and smooth buffed satin surface. Light will also be gently reflected and provide a subtle reflection of light.
"Matt" tiles are a flat finish that provide no shine or gloss when exposed to light. This may create a 'darker' room as any light in the room is absorbed. The level to which a matt tile will contribute to the darkening of a room will also depend on the colour; a white matt tile will still seem light; however, a grey/black matt tile will darken the area further.
What Considerations Need to be Made Around Grout?
There are different types of grouts: cement-based, resin-based, and epoxy grout.
Cement-based grout is commonly used. It comes in dry powder form and is mixed with a proportion of water to form workable grout. This type of grout is not waterproof and may be sealed after installation to protect it against moisture and to prevent mold growth.
Resin based grout is the next level up. It also comes in powder form that is mixed with water. There are no cementitious components in this grout. Resin-based grouts are almost completely water-resistant.
Epoxy grout is the highest quality grout and is often used in commercial grade kitchens and aged care residences as they are durable, waterproof, and almost completely stainproof. Epoxy grout is a two-part chemical mix and does require specialist installation and is not something that any tiler can do. Thus, it can be a costly grout to install. So, if you are doing a regular residential renovation/build you can opt for another type.
The colour of your grout selection is very much a personal preference based on aesthetics. The wide colour range of Kerakoll grouts at TFO means that you can often get a colour to match almost seamlessly to your tile. Alternatively, you can also opt for a contrasting colour for a more dramatic aesthetic. You can also use grout to tie in different tiles together. As an example, you may choose to have a black floor tile with white grout, and white wall tiles with black grout to create cohesion throughout the room.
How Do I Get Help in Making The Correct Choice?
Feel free to come instore and visit us! TFO has sales consultants instore 7 days a week. They are more than happy to help you in selecting tiles.
TFO also has a Design and Colour Consultant available by appointment. Please email designconsulting@tfo.com.au to make an appointment.
If you are in a regional or remote part of Australia, NSW or interstate, or simply cannot come into our store, TFO also has virtual consultations available via bookings on the home page of our website.