Travertine tiles have long been a popular choice among designers, architects and home builders for their unique and timeless look. At TFO, we have a wide range of quality Travertine tiles in Sydney available at outlet prices. Our staff are highly trained to be able to give you the best advice when choosing travertine tiles for your home, offering product and technical information along with colour consulting giving you the perfect solution for your projects. To make your decision easy, see the below 5 Reasons to Buy Travertine Tiles.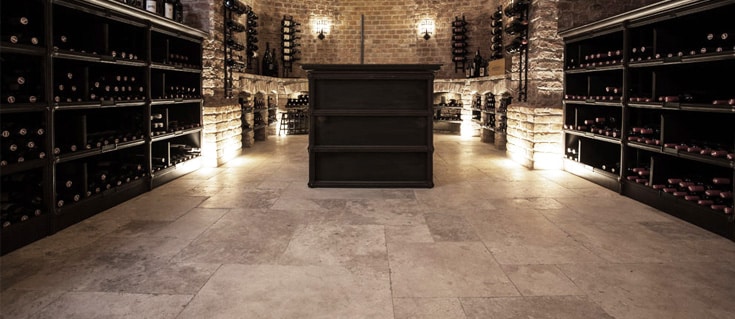 1.Uniqueness
One of the first reasons to buy travertine tiles is its uniqueness. It is a popular choice for all areas of the home – bathrooms, kitchens, living spaces, outdoor BBQ areas, cellar, pool areas and even facades. Travertine tiles are characterised by their naturally occurring pit holes and troughs in the surface and colours ranging from white through grey to even coral red. Travertine comes in a range of surface finishes, thicknesses and sizes including French pattern travertine. Each piece of travertine is one of a kind, adding personality and creating your individual home.
2.Feel
Travertine tiles feel great underfoot. They are cool to touch in the summer and in winter they do not get as cold as some other types of natural stone. Travertine tiles bring an earthy, antique feel to any area of your home whether it be a Tuscan style BBQ area or a silver travertine wall tile used behind a freestanding bath creating both an elegant and relaxing space.
3.Longevity
A testament to Travertine's durability and longevity stands today in Rome – the ancient Colosseum. A truly timeless look, it can add warmth and sophistication to any environment. Unlike man made products, Travertine wall tiles and floor tiles will transcend the evolving fashion trends that any home builder or renovator is constantly faced with. Yes, travertine is a great long lasting option.
4.Value
As travertine tiles have a timeless appearance and the ability to withstand trends, they add value to your home. Taking into consideration its uniqueness, feel and longevity, it cannot be perfectly mimicked by other products on the market. Travertine tiles like silver travertine, French pattern travertine and large travertine tiles add character and charm to your project.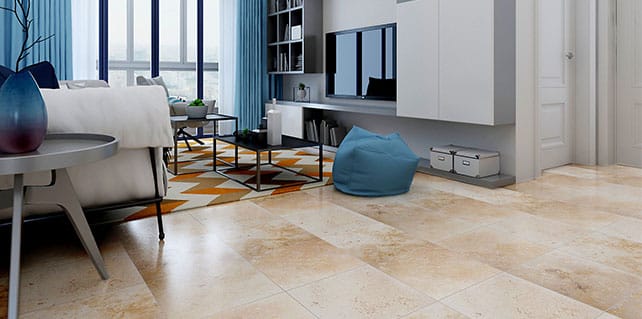 5.Price
Travertine is no longer unattainable for the average household. At TFO we offer a large range of quality Travertine tiles including travertine mosaics, silver travertine, French pattern travertine, travertine pavers, tumbled and honed and filled travertine at a fraction of the cost of other retailers. At TFO we have 3 categories of travertine called Budget, Flow mix and Premium; all of which are quality choices to cater for all budgets. You can now afford to add the charm and luxurious feel of travertine to your home today.
Buy travertine tiles or travertine pavers now online or visit us instore today in Sydney at 107 Warren Road, Smithfield.
3 Types of Travertine
People love travertine, mostly for its texture and the look it creates within any room. It is a classic masterpiece and creates an artistic look as each piece is unique. However, there are some differences between the different qualities of travertine. Here are a few points to keep in mind when choosing which is best for you.
Budget
Our Budget travertine is 100% authentic travertine. If you want travertine but are on a budget or want the more rustic character of travertine, this is a great product for you. Budget travertine may have 'holes' all the way though the tile whilst still maintaining the stunning look of travertine. At TFO, our budget travertine runs out of stock fast as it's a popular choice for many.
Flow Mix
Having the beauty of travertine but a little more refined than budget travertine is our Flow mix travertine. Being 100% real travertine, this is a mid-range travertine. It balances between looks and price. Some 'holes' are visible which enhance the rustic feel of the travertine but they are not as frequent as in the Budget range.
Premium
Top of the range Premium travertine is as the name suggests, a high quality travertine. They are sourced from some of Turkey's most reputable quarries that are known for producing fine quality travertine tiles and pavers. While each piece is beautifully unique, the quality is more consistent than in the other two ranges. TFO's premium travertine tiles are sold at a fraction of the prices for similar or the same type of travertine elsewhere.
We have a huge range of travertine on display in our showroom, so come in and see for yourself just how appealing travertine is.
Popular Travertine Tiles