Why 20mm Porcelain Pavers?
20mm porcelain pavers are one of the latest innovations in the construction industry. This product offers a cost-effective alternative to natural stone that will save more than just money in the long term. Some of the reasons why people are opting for 20mm porcelains over natural stone are:
Low Cost
Coming in at least 30% cheaper than their 40mm natural stone alternative, the price of 20mm porcelain pavers is one of the products main attractions.
Low Maintenance
Unlike natural stone, 20mm porcelain pavers do not require sealing upon installation or resealing every few years making them virtually maintenance free throughout their life as minimum upkeep is needed.
High Durability
As a manmade product, porcelain pavers have a breaking strength of around ≥ 10,200 N, equating to about 1 tonne per paver. Most natural stones are unable to reach the same breaking strength. This is because they are unable to achieve the same density as a manmade paver. In a lot of cases natural stone pavers will have naturally occurring fractures/veining which can become stress points once weight is repeatedly placed on them (i.e. a high traffic area).
Easy Installation: Pedestal Systems
The introduction of pedestal systems has opened a world of possibilities for builders and architects alike. With a large portion of all remedial works stemming from defects relating to either waterproofing or efflorescence, it comes as no surprise that many builders are searching for alternatives to conventional tiling methods. By integrating the 20mm porcelain pavers along with the pedestal system on their projects, builders have found a way to safeguard their workmanship and allow unhindered access to a finished space.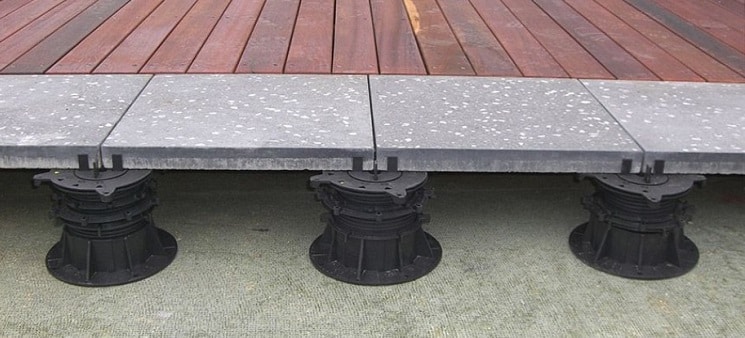 Seamless Indoor/Outdoor Transition
Whilst 20mm porcelain pavers are still relatively new in the market, European manufacturers are already at the forefront when it comes to their designs and product offerings. With a surface finish that feels like a matt but has the capability to achieve a P4 slip rating this one unique exterior will allow you to achieve a seamless finish inside and out. Manufactured in various formats as well as an array of designs, the versatility of this product is undeniable.
Whether it be for your commercial project or personal home, contact our TFO showroom today to find out more about our 20mm porcelain pavers.