TFO – A Factory Floor Tile Outlet with a difference!!!
Outlets are fast becoming the trendy way to shop.  The meaning of factory outlet or outlet store is a brick and mortar or online retail store where manufacturers sell their stock directly to the public. Traditionally, a factory outlet was a store attached to a factory or warehouse, allowing customers to buy discontinued and obsolete stock.
Outlets first started in America and now have spread all over the world, including Australia. In Sydney, everyone knows DFO at Homebush and Birkenhead Point Outlet Centre, these outlets offer big brand names at reduced prices. The product mix ranges from fashion to homewares and furniture.   In today's market, outlet stores are typically manufacturer-branded stores like Nike, Gap, Bonds, etc, often grouped together in outlet malls.  These stores offer last season's stock at reduced prices.
TFO is a factory outlet with a difference. The difference is that Tile Factory Outlet imports reputable brand tiles directly from manufacturers around the world. Selling high volumes with very low margins, customers have found that they can save thousands of dollars by buying from TFO, in fact saving up to 70% off retail prices. All the products are first quality, not seconds or discontinued lines (– except in the "clearance section" where you will find super bargains on floor tiles).  The range is continuously being updated with the latest trends.
Having stupendous products from around the world, together with an experienced sales team, we at TFO are ready to give you advice on which floor tiles are best suited to your taste and style, making your choice easy.  The TFO sales team is highly experienced and will give you design ideas, measure your plans, help you pick the perfect product for your home, fixing advice and give after care solutions for your products. TFO provides you with everything you will need for your tiling project big or small.
This is the reason why TFO – Tile Factory Outlet has fast become Sydney's premier outlet for quality and affordable floor tiles. TFO carries over 250,000 /m2 of tiles at 107 Warren Road, Smithfield in New South Wales (we are located on the Cumberland Highway, one of Sydney's main roads in between Liverpool and Parramatta). This outlet is easily accessible from Newcastle, Canberra and really any part of New South Wales.
Tile Factory Outlet (or TFO) regularly gets customers from Melbourne, Brisbane, Adelaide and even Perth. Why? This is because TFO provides the best value Floor Tiles in Australia, even after you add the price of freight.
TILES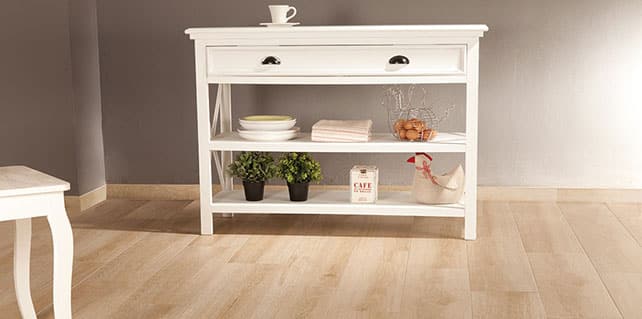 The 'tile' has been made by man for at least 4,000 years, having been used for practical and aesthetic reasons everywhere from ancient Egypt, Arabia, Greece, Italy, Spain and Portugal.  Tiles are intrinsically linked to art, decorative features and architecture and to this day, tiles continue to be used in our homes for their practical and aesthetic features.
When it comes to our own homes, it becomes a great ordeal as most people think  "once tiles are laid, they are there forever!" and that "Your house reflects your personality, your dreams. Your life shows the world who you are. If you know who you are…you know your style." You can choose whatever suits you at TFO. However, if in doubt, the TFO sales team will guide you to make your choice easy.
Choosing the right Floor Tiles for your home
Most people looking for floor tiles are confused between Ceramic Floor Tiles and Porcelain Floor Tiles.  They are very similar as they're both made from clay and undergo a similar baking process.
Ceramic tiles are more absorbent as they're made from porous clay and are therefore best suited for indoor use.  Ceramic tiles are usually red, brown or white porous clay with a glaze on top. They are typically less expensive, easy to cut and easy to clean and maintain.  Perfect for small renovation jobs and DYI projects.
Porcelain tiles are made from selected refined clays and are pressed before baking at a much higher temperature than ceramic tiles.  Therefore porcelain tiles are less absorbent, stain resistant, frost resistant, the colour runs through the whole tile and they are easy to clean, however they are harder to cut and are more expensive.   Porcelain floor tiles are a better choice for new home renovations and larger commercial projects where a better performing product is needed.
Porcelain floor tiles are produced with more advanced technology producing an incredible range of colours, sizes and styles such as stone looks, marble looks and  timber looks.
Porcelain Floor Tiles – State of the Art Technology
At present, through bodied technical porcelain is produced using three different technologies, all of which deliver outstanding technical performance, but with gradually rising stylistic values.
The production process for full body porcelain tiles takes place in plants with ISO 14001 certified quality systems and uses raw materials selected from all over the world. Combining tile body mixes with different types of minerals during pressing provides a wide range of products that successfully deliver both excellent technical performance and high stylistic content.
The continuous cycle system involves the controlled distribution onto a conveyor belt of a large number of layers of powdered raw materials, to create an amazing variety of decorative effects with extraordinary versatility, veins, intrusions and combinations of materials and unique, natural colour effects.
Double Loaded Floor Tiles
The double loading technology offers all the technological benefits of through bodied porcelain with particularly fine appearance.  The loading of tile body mixes and micronized powders into the press in a number of steps, generates variegation and colour shade difference within the material, leading to attractive, natural variability like that of marble and other types of stones.
Floor tiles are also long-lasting, hypoallergenic and mostly stain resistant and provide a natural cooling system for your home during the hotter months of the year. With all the creative designs on the market today, it's time to throw caution to the wind and make a statement with tiles.
The Best of the Best in Floor Tiles
TFO works continuously to form relationships with the best of the best manufacturers from around the world, thereby accessing the best products for the best price.  We bring them to the Australian marketplace, straight to you the consumer at unbelievably low prices.
"Made in Italy"
When the term made in Italy is heard, our minds immediately think of craftsmanship, innovation, creativity, taste, style – all things that mean superior quality and a guarantee of value.  From fashion to shoes, from interior design to inventions and research, the made in Italy brand stands out in the world.
Italy's first and foremost export is an unmatched sense of design and style, founded on centuries of Italians making things beautifully and with care, by passing down traditional artisan methods from generation to generation. So when we purchase and hold or wear a product which is made in Italy, we hold a gift of human creativity.
Italian companies such as Italgraniti, Magica, Refin, Gardenia-Orchedia produce state-of-the-art Porcelain Floor Tiles.  These companies are known for their leading edge technical and stylistic developments in the industry.  They produce innovative surface solutions for residential and commercial buildings. For this reason, TFO has decided to partner these companies making their products available to the Australian marketplace.
The Latest Trend
Timber Look Porcelain Floor Tiles – the look of real timber without the maintenance
One of the most popular trends in home decorating is the use of Timber Look Full Body Porcelain Stoneware. These products are the ultimate in style with the time-worn beauty of real timber.
Timber look porcelain tiles give you the look of natural timber without the maintenance. You can choose from a variety of finishes such as textured, satin, semi polished or polished surfaces which will last year after year.
Also available is the anti-slip finish for exterior areas, allowing you to continue the same colour inside and out.  The formats available emulate timber planks which allow them to be laid in conventional plank patterns producing the natural look of timber.
The mixture of colours features different vein patterns and shades, just like real timber. The variation is carefully achieved by the latest in ink jet technology.
Timber look full body porcelain floor tiles are a high-performing covering, they withstand frost, damp, weather and wear.  These characteristics make them excellent for outdoor and indoor use, anywhere in the home and heavy traffic public buildings.
The selection of timber look floor tiles at TFO is second to none – top brands from Italy, Spain and China are available in beautiful finishes emulating natural timber that require very little maintenance.
Stone Look Floor Tiles
For centuries man has loved marble such as Bianco Statuario, Bianco Carrara, Crema Marfil, Pietra Grey, Emperador.  These beautiful stones have been used to build empires, in fact entire buildings were made in natural stones. The love story continues with the manufacturing of Full Body Porcelain Floor Tiles in finishes that look like natural stones.
The latest innovative designs and technology is used to produce these extraordinary products, taking them to another dimension of intensity with exquisite textures and maxi formats.
The surfaces come in matt, honed, brushed, lappato, scored, rock face and of course polished, for indoor and external solutions. The colours are endless from highly polished whites, shades of grey right through to stunning blacks. The amazing textures will inspire you to touch and desire these product for your home.
TFO'S range will inspire you to infinite possibilities for decorating your home, giving you the ultimate control for daring solutions that are special and unique and will add value to your home.
Natural Stone Floor Tiles
Alternatively if you are looking for Natural Stone Floor Tiles, TFO specializes in Travertine Tiles and Pavers from Turkey, Carrara Marble from Italy, Pietra Grey from Iran, Crema Marfil from Spain, Sandstone from India and China. TFO offers all these beautiful products at prices that will amaze you, check for yourself online now.
Travertine Floor Tiles
Did you know that very large quantities of Travertine Floor Tiles are coming from Turkey. For centuries travertine has been used as a building material in iconic buildings such as the Coliseum, churches and in Turkish baths.  Travertine withstands the test of time, becoming more beautiful as time passes.
There are many different types of travertine floor tiles available for use in the home, in many different finishes like, honed, unfilled, chiselled, filled, tumbled and polished.  Travertine floor tiles are great for internal floors, bathroom walls and floors and the tumbled and unfilled is perfect for external use around swimming pools. They come in a variety of sizes and in colours ranging from light cream to deep walnut. New to the marketplace is the very popular silver colour.
Because of the turnover of huge volumes, TFO can pass on the great prices to you the consumer.
Carrara Natural Stone Floor Tiles
As you sit back and sip your morning espresso, a pleasant breeze sweeps across the elegant grey and black veins of your brand new Italian Carrara Marble Floor Tiles. You've made the right choice, marble creates an elegant, timeless look that adds value to any home.
Italian Carrara marble is one of the most recognized and most used marbles in the world. This marble is recognised for its elegant beauty and durability. Available in many different finishes, Carrara marble tiles will compliment any room in your home to perfection.
You may be forgiven for thinking  "it's way out of my price range" or "it's Italian, it's going to be too expensive" but think again!  At Tile Factory Outlet, you will also find other fabulous stones such as Crema Marfil from Spain, Pietra Grey from Iran, Sandstone from India – and all for the lowest possible prices.
New Styles
New but Old Shapes Make a Comeback
The hexagon is everywhere in nature – forming patterns in honeycomb, tortoiseshell and snowflakes – so why not replicate it in home design?
Why not choose a fabulous product from the range of Hexagon Floor Tiles such as hexagonal Carrara natural marble mosaics or from the hexagonal glazed porcelain tiles for your next project. Use the hexagonal marble mosaics for your bathroom floor and feature wall to create a contemporary version of semi-industrial-cum-institutional decor, which is modern and clean.
Moroccan Style – Bold Designs and Colour
The Moroccan influence is back in vogue for floors and feature walls. Beautiful Spanish tiles with abstract and floral designs in bold or muted colours can be used for internal flooring solutions or for the bathroom floor and one feature wall for a dramatic exotic look. Use a little or a lot and make a statement on who you are.
Spain is well known for producing beautiful ceramic glazes and has a reputation in the ceramic industry that is highly regarded.  TFO offers a great range of Spanish floor tiles, which come in rich bold colours, in floral and abstract designs for all your decorating solutions.
Size does matter!
When choosing tiles, size does matter.   Although in the past the general rule was smaller tiles for smaller areas and larger tiles for larger areas, now the latest trend is the bigger the better. Small tiles require more grout and they can be hard to keep clean and larger tiles require less grout therefore they are easier to keep clean.
In regards to the look you want to convey in your home, large tiles do offer a sense of space and, used in a small area, can work wonders.
To really open up a tight space, use rectangular tiles laid vertical (portrait orientation) for the illusion of height and match the grout and tile colour so that the look is seamless.
TIP: Don't be afraid to reuse the same tiles in other parts of the house – their reappearance will add a welcome sense of continuity and personality to your home.
Brick, stacked, mosaic and more — get to know the most popular tile layouts and see which one is best for your room.
TFO has you covered – it's worth the drive to save thousands
TFO is continuously adding to their extensive range, products that cater to the discerning customer who admires and appreciates the ultimate in luxury and beauty.
Everything you need for your next tiling project is available now online at Tile Factory Outlet, saving you thousands of dollars and no need to travel.  Visit the TFO online tile store now. You can search for the product you are looking for quickly and easily in the comfort of your own home.  Each product gives you a photo, size, price per metre, quantity in stock, pieces per metre and characteristics of the product – all the information you need to make your purchase online, together with helpful hints on maintenance.  If you have concerns on the delivery of your order, TFO offer delivery options by third party private contractors with estimated delivery charges for greater New South Wales and interstate areas.
So what are you waiting for?  Head over to TFO and check out the stupendous range of FLOOR TILES or visit online tile store now.