If you need floor tiles, you have come to the right place. TFO or Tile Factory Outlet has built a reputation for supplying Sydney with great quality brand name floor tiles at incredible prices. From polished floor tiles to natural stone tiles, we have a huge range of products which you are sure to love.
TFO holds one of the largest ranges of floor tiles in Australia. Our floor tiles are sourced from Italy, Spain and Asia and include glazed porcelain, polished porcelain, ceramic and natural stone tiles such as marble, travertine and granite. You will not believe the great quality flooring options that TFO has on display in our tile clearance super centre in Smithfield, Sydney, Australia.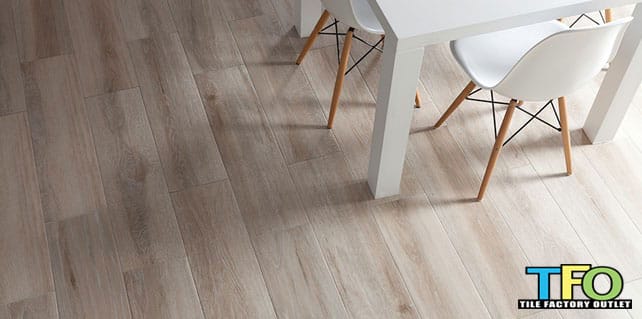 With well over 100 years of combined experience, TFO staff know their stuff and will give you advice you can depend on. We can walk you through the advantages of the various types of floor tiles such as timber look tiles. Timber look floor tiles are glazed and so have great stain resistance. They can add a feeling of warmth and refinement to any home. Timber tiles are designed to look like natural timber with a variety of colours and also textures. Yes that's right, new digital printing machines make tiles that have texture to feel like timber too. The feeling under your bare feet is amazing.
These days many are interested in cement look tiles to give the industrial look, especially in inner city homes and apartments. Another great tile is the marble look floor tile. This tile has a slump glaze which has been given a light polish. This creates a highly reflective surface that has natural surface contours which helps your floors look cleaner for longer. These tiles can add value to any home. The latest trend for all of the above tiles is large format floor tiles. Having a floor with big tiles means less grout joints which as you may know, will make any room look bigger. The large format timber tiles are now often times 200mm with lengths getting close to 2 meters. Many of the glazed porcelain tiles have sizes ranging up to 900x900mm and just of late even bigger.
The new sizes create a feeling of opulence and are taking Sydney by storm. TFO now stock some of these European stunners at under $30 /m2. We get asked all the time how can we sell at these prices. Others ask if they are seconds as they simply can't believe the great value. Let me assure you though, TFO sells first quality floor tiles from some of the world's most reputable tile factories. Yes, the same tile that sells for over $100 /m2 in boutique stores can sell for under $30 /m2 at TFO. It pays to shop around.
We have cheap flooring options for those on a budget, with prices regularly under $10 /m2. A polished porcelain tile like the picture above would sell for under $25 /m2. Our tiles are made by trusted factories who produce modern tiles especially designed for the Australian market.
Another hot trend are hexagonal tiles.  We have a stunning array of designs that are sure to suit the look you are achieving for your home.
So whether you are after polished floor tiles or various other finishes, be sure to check out our wide range of stunning floor tiles. Come visit TFO at 107 Warren Road (on the Cumberland Hwy), Smithfield. Or buy online from our online tile store. Note some of our specials below
Cheap Floor Tiles
More Floor Tiles