Choose from a wide range of top quality concrete look tiles at TFO. If you love the raw beauty of concrete but want the low maintenance of tiles, you can't go past the concrete look tile range available at Sydney's lowest prices at Tile Factory Outlet. TFO's range of concrete look tiles is sourced from some of the world's leading brands from Italy and Spain. You simply won't believe the prestigious brand names who have partnered with TFO to give you the best tiles at the best prices. You'll love the latest styles of concrete look tiles such as timber formwork look floor and wall tiles and other cutting edge products, all at TFO's famous low, low prices.
TFO stocks over 350,000 m2 of floor and wall tiles ready for immediate pick up or delivery. Tile Factory Outlet is known as Sydney's biggest and cheapest tile outlet and also has a huge selection of high quality porcelain tiles.
Porcelain tiles combined with the latest digital machines allow factories to copy the look of many sought after products, all with the practicality of glazed porcelain. Copied products include natural stone, timber, linen and various concrete finishes including the aggregate concrete look. All previous attempts over the years came close, but never really perfected the concrete look, until inkjet printing technology and digital scanning came up with such an incredible finish, that once laid, you cannot tell the difference from real concrete to the imitation porcelain tile.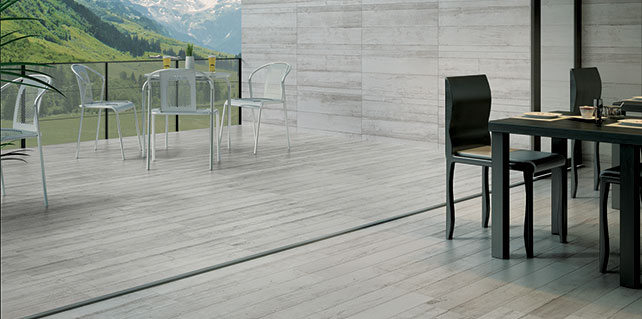 The latest look, the "concrete look," is astonishingly good looking with many different versions produced. To name a few, wood float, aggregate, water stain, formwork etc. The formwork look, shows every minute detail of actual concrete when the timber casing support has been removed.
The great advantages of these porcelain concrete look tiles is that they do not require any special treatment like a real concrete surface does. There is no sealing, grinding or polishing required and also it is a lot more scratch resistant and can be used in all weather conditions. In other words, all the well-known advantages that glazed porcelain tiles bring to any project.
Concrete look tiles create an incredibly realistic modern surface which complements the popular cool feel of varying shades of grey, black, beige and cream.
Most of these products are produced in various finishes being matt, semi-polished (lappato), polished and some also in an external finish. This means you can use these tiles anywhere, from main floors to entry foyers, patios, verandas, staircases, bathrooms as well as feature walls. Tile Factory Outlet has one of the most comprehensive ranges of concrete look porcelain tiles at the lowest prices on the market. Visit TFO today or buy concrete look tiles online now.
Popular Concrete Look Tiles