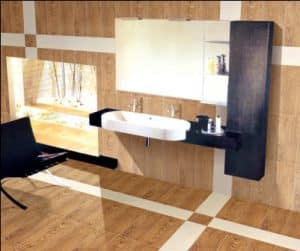 Whether you're installing new tiles in the bathroom, kitchen, living room or anywhere else, it's important to use the right design. Taking the time to plan ahead and shop for the perfect tile design will pay off when you finally get to see your completed work. Don't worry if you don't know which one to choose, as we're about to give tips some tips and secrets on tile design.
Long gone are the days of having to choose from a select number of tile designs. Now, manufacturers make tiles in just about any design and style you can think of, from plain white ceramic tiles to custom, hand-designed tiles. Although with so many choices available, how do you know which one to choose? It's really all about what your personal taste is. After all, you're the one who is going to be seeing it the most and possibly be living around it. However, to keep your tile project from looking tacky or poorly-done, you should follow some basic guidelines.
Tile Design Basics
You don't have to be an interior decorator to understand the basic principles of matching colors. When choosing tile for your upcoming project, stick with color schemes that either match or contrast with the project area. For example, if your kitchen is done in red, look for red-toned tile or something that contrasts the red, like black.
Some tiles are solid colored, but others have designs mixed in. These designs can either make or break the look of a bathroom or kitchen if you aren't careful. Before choosing a design, try and imagine what it would like when the tile project is complete. Oftentimes, this is difficult to do, but you can upload an image of the design to your computer and combine it with a picture of your project area. This will help give you a rough idea of the expected look when completed.
Mosaic Tile Design
One of the oldest and most popular types of tile design is mosaics. The use of mosaics dates back to the ancient Mesopotamian civilization when they were used for decorative purposes in religious temples. Since then, their use spread to the Roman Empire and many other European civilizations, and eventually to the rest of the world.
Basically, mosaic tiles are many small pieces of tile that form a complete look put together. The pieces by themselves don't offer much in terms of style or design, but when used as a whole, the classic mosaic look is something that no other tile design can produce.
One of the great things about mosaic is that compared to other designs it offers a more vibrant, lively appearance. Mosaics are often done is bright colors that open up a room and give it the appearance of being larger than it actually is. For this reason, many people choose to use mosaic in kitchens where space is limited, or outdoor patio areas where people like to relax and enjoy their evening.
Still need more ideas on tile designs? No problem. We invite you to visit our showroom and talk to our friendly team as they are experts in tile design. The experts at Tile Factory Outlet are waiting to help you make the right choice. Come in and see their extensive showroom.