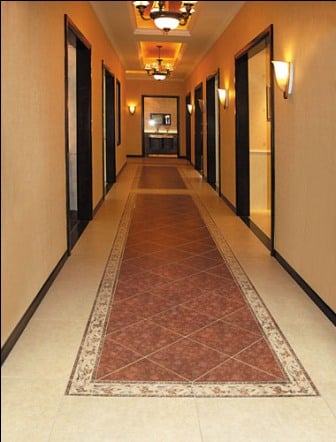 Flamed granite floor tiles are kinds of tiles which are rough. They have rough textures because they are designed to be used outdoors. These types of tiles are strong and sturdy and they really last a long, long period of time compared to other types of cheap tiles sold in the market today.
However, when these tiles are polished quite well, they can be very slippery and they are risky to be used outdoors. So, for you to have the best understanding about flamed granite floor tiles, you need to follow these essential techniques to maintain the strength and looks of these granite tiles so they can last a long, long time.
More importantly, it is best to learn the ways on how to clean these tiles so that they will look much better and will stay attractive for most of the time. Take note that when you make use of granite tiles at home, you are actually on the way to adding beauty and elegance to your home. They are commonly used in countertops and flooring purposes. These tiles are flamed to give textures to the surfaces of each of the tiles used.
However, you have to keep in mind that cleaning flamed granite floor tiles is different from the procedures done in cleaning traditional and regular types of tiles. You have to take extra care while cleaning so that you will not damage the surface of these flamed tiles. Keep in mind that when these tiles are cleaned properly, they will last for years and years to come, thus making you enjoy the grandeur of its looks for a long, long time.
Everyday Cleaning Procedures
Simply wipe the tiles with a damp cloth dampened by plain water; after which, wipe the tiles with dry cloth
Use a mop to pick up dusts, debris, and dirt
Use a sponge mop when you clean the surface of the granite tiles. Use plain water to dampen the sponge mop
Weekly and Bi-weekly Cleaning
Use a large bucket filled with warm water. Add a small part of soap (mild ones are better) and mix the soap and water properly
Use a rag or cloth to dip into the pail or bucket. This is a soapy water cleanser that you can use to clean your flamed granite floor tiles; make sure that you work in sections so as not to make the soaps dry on the surface of the tile
To rinse, use a sponge mop or rag dipped in plain water to wipe the tiles which have been wiped with soapy water. Make sure to go over sections and make sure that excess moisture are properly wiped out
Deep Cleaning Procedure
With a bottle measuring quart-size, add isopropyl alcohol and 2-3 drops of mild soap (liquid)
Fill the bottle with warm water
Shake the bottle very well so the substances combine or mix properly
Spray small amount on the surface of the tiles; work section by sectio0n
Dry the flamed granite floor tiles with dry cloth or rag
Tile Factory Outlet has a great range of quality granite and other floor tiles at affordable prices. Visit them in their Sydney showroom or compare prices and
buy tiles online
.