Renovating your bathrooms can be one of the most exciting yet sometimes costly projects. That's why TFO is here to help.  We offer the same or similar bathroom tiles as some of the over priced boutique stores. Yes, TFO provides the right tile at the right price. We have tiles to suit every budget all at incredible outlet prices. What may be surprising is the amazing level of service we offer. While we employ colour consultants and interior designers, unlike our competitors, we don't pass the cost on to you. Our staff thrive on making this challenging project both enjoyable and wallet friendly. Below are 5 tips that will help you create a bathroom that you will be proud of.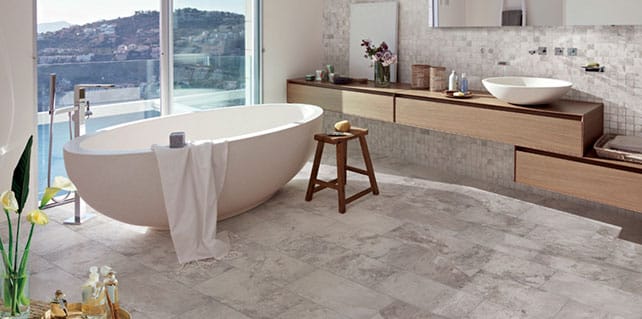 Be Inspired By Nature
Timber vanities, marble look porcelains, indoor greenery and concrete tiles are all a part of an ever growing trend that convinces us mere mortals that resort style living is not just something we dream of on holiday, but is something we deserve to be surrounded by in our day to day lives.
With so many different materials crafted from the inspiration of nature, there is almost no product that cannot be replicated. By utilising the latest technological advancements available at their disposal, manufacturers from around the world have been able to create bathroom tiles that emulate the tone, texture and size of timber flooring. Polished concrete flooring has also developed a strong following, with customers opting for a tile to re-create the look without the maintenance. To be inspired, why not visit TFO today?
Size Matters
With the trend fast becoming the bigger the better, it comes as no surprise that there are tiles on the market as large as 1.5 x 3 meters long. Depending on the size and shape of your bathroom, there are always ways and means of creating an illusion of space – even when the space is limited. By utilising linear drains in the corner of the room, a tiler can lay large format bathroom tiles on a floor without the need of creating multiple cuts. This is especially useful when dealing with tiles that have a marble pattern as the last thing that you want to do is loose the effect through having to cut the tile down. Our sales team at TFO have been trained in giving you the best advice on these issues.
Think Dimensional
To create a style that incorporates both luxury and drama, don't be afraid to play around with 3D, patterned or even textured bathroom tiles. These elements will assist in creating a space that requires minimal styling with additional accessories, but rather emphasises one key element that will become the focal point of the room. Utilising patterned or 3D bathroom tiles, paired alongside a simplistic yet complementary colour palette, will ultimately spell success for any renovator.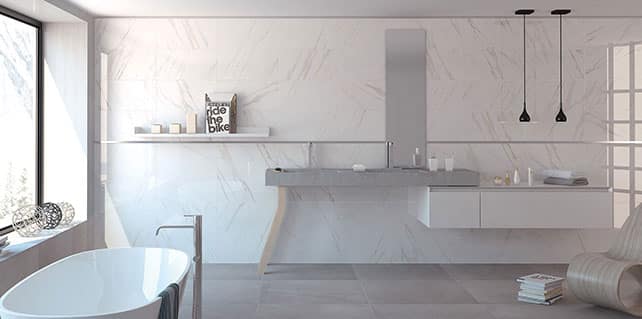 Timeless Design Is Key
Unlike soft furnishings, once you have finished your bathroom revamp, it's highly unlikely that you will decide to renovate again anytime soon. Keeping that in mind, it is suggested that you opt for neutral colour pallets in order to avoid fleeting trends. Think classic colours such as whites, greys, soft browns, creams and charcoals. Even the most basic bathroom tiles can bring out the best in the room by simply integrating unique styling techniques through the way in which they are laid. Some of the most popular artistic patterns utilised during the application process include herringbone, brick bond and chevron to name a few. While some patterns may mean slightly more wastage, our trained staff at TFO can help you with this.
Choose To Contrast Or Complement
Whatever your design choice, to ensure that it goes off without a hitch, opt to either complement the surrounding tile choices or alternatively be bold and create a dramatic contrast. Feature walls can help draw attention to one particular area. However, to avoid the room looking too busy – pair the feature with a subtler tile of a similar toning. This will create the consistency you are after without losing the impact of the contrasting wall.
This article is general in nature. Feel free to speak with any of our well trained TFO staff for more tailored advice on making your next renovation a huge success.
LATEST BATHROOM SELECTIONS
Looking for the latest style for your Bathroom Walls and Floors? TFO is now showcasing the latest Bathroom Selections in the newly extended showroom at Smithfield – Full bathroom cubicles displaying the latest styles in beautiful colours, textures and finishes from tiny mosaics to large formats all coordinated with the latest tap wear and designer vanities made in Italy.
Whether your style is Contemporary, Classic, Retro or Industrial you can choose from the many different tiles available, specially elected by designers in combinations to make your choice easy.
CONTEMPORARY
CONTEMPORARY
Featured Tiles: 7538 – Polished Bianco Carrara Hexagon Marble Mosaic Sheet (305x305mm sheet, 25mm pieces)
Wall Tiles: 4084 – 300x600mm White Gloss Rectified Edge Ceramic Wall Tile
Floor Tiles: 6198 – 300x300mm Park Avenue Grigio Matt Full Body Porcelain Floor Tile
MODERN
INDUSTRIAL
Featured Tiles: 7316 – White and Black Twist Glass and Metal Mosaic Sheet (300x300mm)
Wall Tiles: 5937 – 300x600mm Season Grey Lappato Formwork Look Porcelain Tile
Floor Tiles: 6198 – 300x300mm Park Avenue Grigio Matt Full Body Porcelain Floor Tile
DECO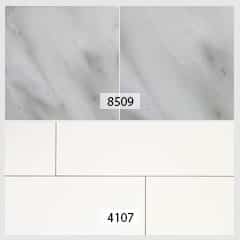 MODERN
Featured Tiles: 7063 – Goliat Hexagon Grey Mosaic (275x285mm Shee)
Wall Tiles: 6062 – 600x600mm Bolero Marble Look Glazed Rectified Polished Porcelain Tile
Floor Tiles: 5280 – 300x300mm Davos Perla Matt Glazed Spanish Porcelain Tile
CLASSIC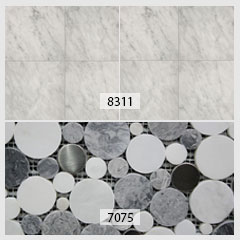 Wall Tiles: 8311 – 305x305x10mm Bianco Carrara Polished Italian Marble Tile
Floor Tiles: 7075 – White and Grey Marble and Brushed Aluminum Mosaic Tile (305x305mm)
NATURAL
NATURAL
Featured Tiles: 7350 – Beige Marble Strips Mosaic Tile (300x300mm Mosaic Sheet)
Floor Tiles: 5843 – 300x300mm Davos Hueso Matt Non-Rectified Spanish Porcelain Floor Tile
INDUSTRIAL CHIC
Featured Bathroom Tiles