When speaking of Italian marble tiles, nothing comes close to the dramatic personality of Calacatta marble. While this type of marble is only found in a small area of Italy, it is one of the most sought after marbles around the world because of its unforgettable look. While many confuse it with Carrara marble which is slightly more accessible, Calacatta marble tiles are known for their whiter colours and more dramatic veining patterns.
Unfortunately, Calacatta marble is not the most affordable marble around. The popularity of the stone makes it one the more expensive stones. Even if one can get a hold of Calacatta, it's not guaranteed that it's of the finest quality. The fragility of the stone and the porosity of the marble also makes it one of the more sensitive products which requires constant care and attention. These factors mean that Calacatta marble is often only used on small feature walls, bathroom walls or on a kitchen benchtop.
But how can you enjoy the stunning beauty of Calacatta in a bigger area without breaking your wallet? We are proud to announce that we now have a carefully selected range of brand new Calacatta design porcelain tiles from Italy and Spain.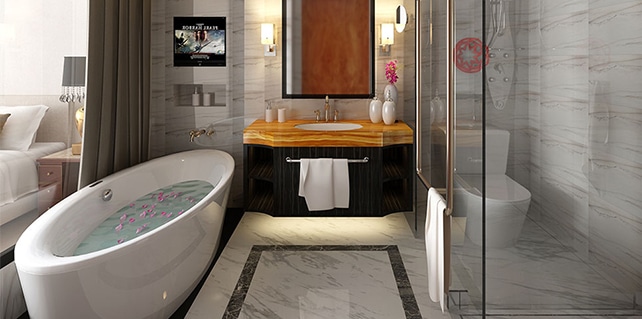 You may be wondering why you should be interested in Calacatta 'Look' porcelain tiles. Actually, there are many reasons why you should be. First of all, these tiles are designed with cutting edge digital technology which reproduces the look of Calacatta marble right down to the minutest details like never before. Not only that, each piece of tile is designed with a uniquely different pattern, enhancing the true natural look of Calacatta marble.
Another reason why you should consider Calacatta look porcelain tiles is that they are virtually maintenance free. They are made of a strong porcelain body which means that they are extremely hard to damage even under heavy traffic. They are also glazed, so nothing can stain or discolour the beautiful design of the tiles.
Lastly, they are so much more affordable to purchase and install. Here at TFO, we directly import the finest porcelain tiles from Europe to help you save thousands on brand name tiles.
So, you have nothing to lose. You'll get the same luxurious look of Calacatta whilst saving thousands and without the worry of a long and repeated process of care and maintenance. Use them as floor tiles in your living room or even for your whole house.
Come and visit our showroom for the full range of Calacatta look glazed porcelain tiles or buy Calacatta look porcelain tiles online now.