This week during our MADE IN ITALY SALE month we are highlighting our fabulous range of Italian Made Vanities all at OUTLET PRICES starting from just $425. For the month of July only you can receive an extra 10% ONLINE ONLY for Item: 9411 while stocks last!
Made in Italy – says it all; quality materials, great craftsmanship and innovative designs. The ultimate in design for contemporary and modern bathrooms available in sophisticated gloss white and in timber finishes.  Exquisite Wall Hung Vanities in innovative finishes such as Walnut and Anthracite – a "sawn effect" timber finish, Matrix White – a white wash timber grain look, Matrix Grey – a superb grey timber grain effect and of course in a high gloss white.  The carcasses are made from laminated wood fiber covered with wood essences which is tested for water resistance. The doors are soft closing and all vanities include brackets and pop up waste.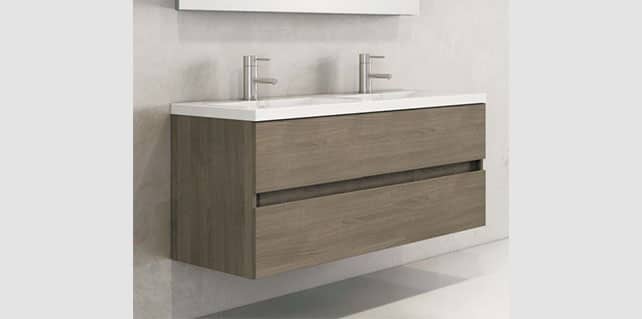 Noce/Walnut Double Basin Wall Hung Italian Vanity
The Italian Vanities feature mineral-marble washbasins and mineral-marble countertops. Both single and double bowls all with pop up wastes. Two and four drawer options that have pull-up systems and renowned Hettich hinges.
A great variety of sizes for any size bathrooms: –
700x500X540H
810x460x555H
900X508X540H
1200x508x540H
1500x500x540H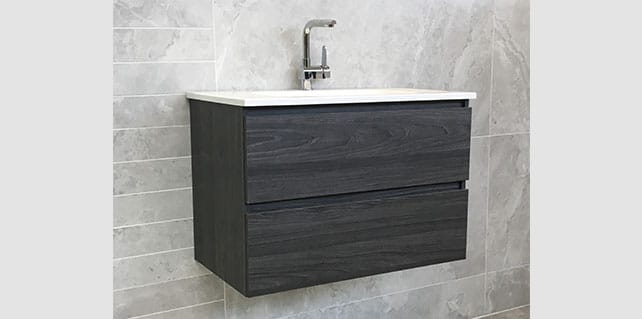 Olmo/Anthracite Single Basin Wall Hung Italian Vanity
Made by an Italian company that started with a small production in 1996 and has grown to a production plant of 8,000 square metres; famous for their innovation and technological leadership. Great care and attention are taken throughout the production process, from the quality raw material selection to the research of shapes and designs. Producing quality bathroom furniture with responsibility and at the best price for the market. TFO is proud to partner with such a distinguished Italian manufacturer.  All products have the ISO 9001:2008 Certification of Quality.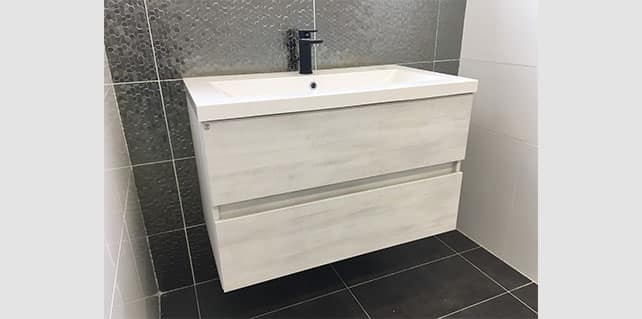 Matrix/White Single Basin Wall Hung Vanity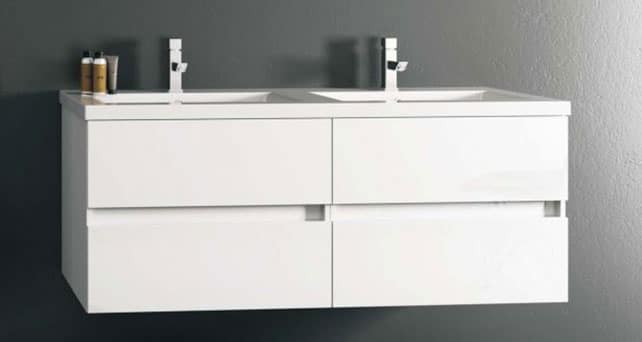 Bianco/White Gloss Double Basin Wall Hung Vanity
Did you know that wall hung vanities make your bathroom space look bigger? and you do not have to worry about a wet mop damaging the kickboard. Wall hung vanities are the latest in bathroom designs to add glamour, style, and quality to your next bathroom renovation. We have all the products you will need to turn your next bathroom renovation into a 10 out of 10 Reveal. Beautiful wall and floor tiles in finishes to suit any style; Mosaics for feature walls in glass, metals, and natural stones in geometric, hexagons, penny round designs; Italian tap wear starting from just $99; Buy now all Made in Italy products online www.tfo.com.au or visit us at 107 Warren Road, Smithfield or pay the price!