We learn a great deal through word association. When we think of "fire", then immediately the word "hot" comes to mind. When we hear "sugar" we think of "sweet". What about the country name "Italy"? For decades, it has been and continues to be associated with the newest trends in fashion and style as well as excellence in craftsmanship.  Here at TFO, we have brought that premium quality to you with the Prestigio tile collection.
The Prestigio series from Refin, Italy, has captured the classic look of marble tiles and given it a modern flare, essentially making it a modern classic.
This marble look porcelain tile range has natural hues and subtle, yet at times bold, veining which not only combine to create exquisite beauty but also to convey the emotion for which marble has been quarried for centuries.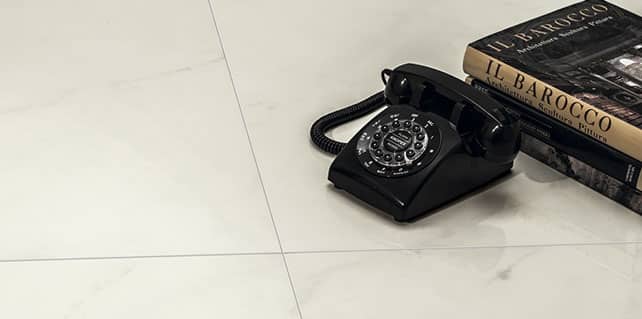 The Prestigio series from Refin provides a modern feel, in part due to the large size in which these marble look porcelain tiles are produced. Moreover, their versatility allows them to be used where you entertain guests, where you enjoy a succulent meal with family, or where you decompress at the end of the day and have some quiet time alone, just to name a few options.
Elegance, timelessness, durability, uniqueness—these will be the word associations that come to your mind with this new line of Prestigio tiles. Your décor will make a statement. What is more, you will understand why throughout time the aesthetic beauty of marble has inspired both artists and architects alike.
You may wonder what makes this line of marble stone look tiles so appealing. The primary reason is that it was extensively researched and cared for from its beginning design to its delicate finish. This insured that no aspect of its intrinsic beauty was diminished; only enhanced.
What else makes these marble look tiles such an attractive option? It is the randomness of the veining. Just as with natural marble, no two tiles will be exactly alike. Even the hues vary from tile to tile and sometimes within a tile.  This uniqueness affords you a rare opportunity, that is to give personality to your décor—YOUR personality.
Check out our premium collection of Prestigio tiles to help you acquire that timeless look you have been longing for. Take a trip to our TFO showroom in Sydney or compare prices and purchase online to get savings that you will not find anywhere else.