If you're going to reinterpret a classic, you'd better make it good. The new Atelier tile range from Sintesi Italian Ceramics takes it even a step further—it takes classic and natural architectural materials, reinterprets them as ceramic tiles, and makes them even better. Innovation, dedication, and the latest technology have combined to bring you yet another stunning collection characteristic of Italian artistry and craftsmanship.
Sintesi's attention to detail in this new tile series shows their sixth-sense for what satisfies contemporary taste in home décor, while their wide range of colours and original patterns will take your chosen room from mediocre to magnificent. These tiles are characterized by optimum aesthetics and superior quality.
Amongst them you will find tiles delicately coloured with muted silver and foggy greys as well as patterns as subtle as a recurring whisper. The range then transmutes these same elements into bolder shapes and magnificent motifs.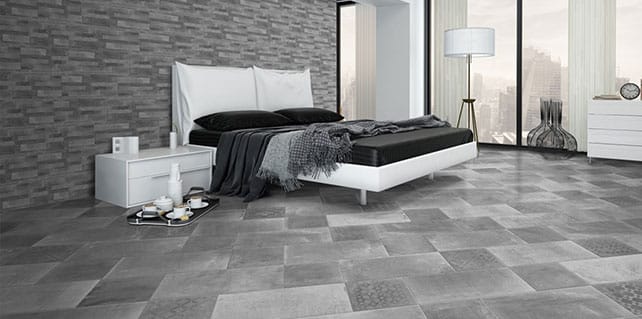 One of the secrets of this tile's charm is the likeness to concrete tiles. Porcelain concrete look tiles are now a trending choice in décor for both homes and businesses alike and in both indoor and outdoor installations.  You get the elegance of tile with the sophistication of polished concrete to create that coveted industrial look. Yet you are relieved of the burden of polishing, grinding, sealing or filling in cracks—regular tasks if you chose actual concrete. You are left with pure and painless aesthetic beauty.
The Atelier range also features neutral colours. These serve as a chic backdrop for furnishings of nearly any hue. What is more, the unique non-repeating pattern gives the tiles an artistic one of a kind feel that is hard to achieve. All of this and more is available to you with the new Atelier tile range.
At TFO, we are constantly on the lookout for the latest and greatest in tile designs. We source our tiles directly from manufacturers and bring them to you at amazingly low prices, outlet prices. In our over 250,000m2 of stock, you will not only find this exquisite range of tiles from Italian Ceramics, but many other beautiful tile varieties that are trending in today's market. Not in Sydney? Not a problem. Check us out online, view our products, compare our prices, see the difference for yourself.  Let TFO make your tile installation the talk of the town with our stunning range of premium quality tiles.