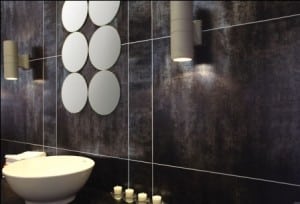 Adding new wall tiles is a simple DIY project that most people can handle by themselves. However, many people make the rookie mistake of choosing an inappropriate type of tile for the job. For wall tiles, you have to use one that's suitable for your specific conditions and needs or else it won't look right or function properly. Here, we'll go over some tips on how to choose the best wall tiles available.
Before Installing Wall Tiles
For anyone choosing to install wall tiles, proper measurements are a necessity. Don't just estimate the lengths of your room, take a few minutes to note the exact measurements necessary. You don't want to "think" you've purchased enough tiles, only to find out that you're a box or two short. Using your measurements, determine how many tiles you'll need and if cutting will be needed.
Don't wait until the last second to prepare the wall you want to tile. Give yourself ample time to take down any previous tile or other backing and for cleaning. Not taking the necessary time to fully clean the wall of debris and old adhesive can cause your tiling project to look sloppy and unfinished.
Different Types Of Wall Tiles
One of the most versatile and popular types of wall tile are ones made of ceramic material. These can be used in bathrooms, kitchens, patios, living rooms or practically anywhere else you want. The great thing about ceramic wall tiles are that they are extremely durable and resistant to moisture. As opposed to other types of tile, ceramic tile doesn't absorb any water unless it is damaged, making it an ideal choice for bathrooms and other wet areas.
Because it's naturally resistant to water, not too much maintenance is required when owning ceramic wall tiles. To clean it, just spray it down with some all-purpose cleaner and give it a thorough wipe down with a towel. If there's dirt or grime not coming off, give it a good scrubbing. Don't worry about harming the surface as ceramic tile doesn't scratch or damage easily.
For homeowners who want to add an updated, current sense of style to their home, you should consider the use of glass wall tiles. This type of tile offers one of the most sophisticated and unique looks that no other tile can offer. Glass wall tiles can be found in many different styles and sizes to fit any type of look.
Some glass wall tiles are made from 100% recycled glass material. This type of wall tile is great if you're going for an eco-friendly home setting. Plus, some of the designs offered by recycled glass looks stunning.
Another excellent choice is using porcelain tiles on your walls. For the price, porcelain is one of the best all-around types of wall tile available, and unlike other types of tile, porcelain doesn't crack easily.
These are just a few of the most popular types of wall tiles. When choosing one, consider you situation and the area you want to tile. Find a type of wall tile that's going to be long-lasting, durable and easy to clean.
Want to know the best place for wall tiles? Whether you are looking for tiles for your kitchen, bathroom or any room for that matter, the best place is TFO Tile Factory Outlet. They have over 60,000m2 of tiles ready for immediate pick up. So you are sure to find something that you will like.