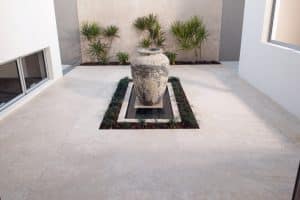 Looking at the exterior of your home, you notice that it doesn't appear as lively as it used to. There are several things you can do to improve the look of your home's exterior. The easiest and least expensive way, though, is to install travertine pavers in places like your walkway, backyard patio and around your pool.
Travertine pavers are an inexpensive tile that offers numerous benefits to homeowners. They are able to withstand the tough Australian sun without getting overheated. If you have ever walked on hot pavement with bare feet, or even with socks on, then you know how uncomfortable that is. With travertine pavers, you don't have that problem. Even in the middle of summer, you would still be able to walk to the edge of the pool comfortably.
No matter what your home decor is, you can find these tiles in a size, design and colour that match it perfectly. A light colour travertine can provide a touch of class to your outdoor space, especially when combined with elegant outdoor furnishings. If you prefer something more unique, 30mm travertine pavers in dark noce or silver can turn a dull backyard into your personal fantasyland.
In addition to being long lasting, brushed travertine pavers provide a non-skid surface that can prevent accidents. This is particularly important around pool areas where the water can make things slippery. The best part is travertine weathers well. Most travertine paver owners apply a simple roll on sealer once every 10 years or so.
If you are ready to give your home's exterior some pizzazz, then consider installing travertine pavers. Visit www.tfo.com.au for the best selection and the cheapest prices in Sydney.
You can visit our showroom in or compare prices and buy tiles online  at TFO's online store. You won't regret it!