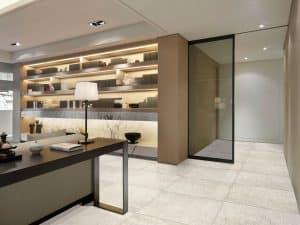 Porcelain tiles are Australia's favorite tile. This is a fair statement. In fact Australia has always had a love affair with quality tile and stone pavers. The Australian market has been influenced by the Italians who have been setting trends in design, colours and innovative applications. This resulted in Australia's love affair with porcelain tiles and now they are Australia's most popular tiles.
This love affair came about because of Australians love for renovations. Yes, renovating their homes is one of the many things that Australians love. Research shows that Australians renovate or move almost every seven years. Hence,  Australians are falling in love with porcelain tiles as a great product to use in renovations.
Porcelain tiles are the most loved indoor floor tile for many Australians. The latest trend in is that they prefer indoor tiles that are larger and have been choosing tiles with lighter colours like beige. In particular polished porcelain tiles are loved by Australians and are gaining in popularity because they are beautiful. Added to this they can imitate natural stone like marble or limestone and are much more practical. They are more durable, less stain resistant, easier to maintain and more chip resistant.
Polished porcelain tiles are also suitable for wall applications. These tiles have a stunning marble like classic style, elegance that is modern, and at the same time a refreshing and uplifting. Polished porcelain tiles can be used in your home, retail and commercial buildings. This is the reason why Australians love polished porcelain tiles. It has been said that polished porcelain is becoming Australia's national tile.
What Australians also love about polished porcelain tile is the magnificent super white polished finish. This colour has a beauty and ambience of natural stone, with a finish that is mirror-like and looks at its best on walls when put on the floor to ceiling without interruption.
Porcelain tiles have very low level of porosity, which is around 0.03%. This tile is also resistant to abrasion and does not easily get stained. Now with Nano preseal , Polished porcelain is even more stain resistant.
No wonder Australians have fallen in love with these porcelain tiles: these tiles are actually products with aesthetic beauty and functionality. They are not just beautiful, they also work magnificently, giving your home a refreshing, shining, shimmering, functional and splendid look with its natural beauty and functionality.
One of the best and most recognised polished porcelain tiles on the Australian market is the Monalisa brand. It is the preferred brand, especially for the tilers, who love to work with it because of its accuracy and quality.
This is Australia's love affair with porcelain tiles. Visit TFO as your expert polished porcelain supplier!