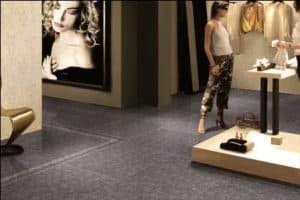 When first looking at a roomyou wish to decorate, some would consider the room's size to be the last thing to consider. However, considering that room size affects how you perceive the room should make this one of the top things you take into consideration. Why?
Too Big, or Not Too Big—That is the Question 
Take your prospective installation of floor tiles. You've settled on a colour, but what size floor tiles should you use? Are you tiling your bathroom? Generally a bathroom is small. Using larger tiles, however, in a small space can make the room"feel" larger. On the other hand, in larger areas such as the kitchen, using small tiles could feel visually overwhelming, as if there is too much going on in this large space. So when it comes to floor tiles, consider size.
Floor colour 
When ponder the question of colour in decoration, we tend to think in terms of wall tiles. But let's show some love to the floor as well! Together, they too can create the illusion of space.
For example, to make a small room feel larger, choose a dark floor tiles installation, but use a light colour for your walls and ceilings, and watch the room expand before your eyes.
Does your roomhave a low ceiling? Well, you can "raise the roof" by painting it a lighter color than the walls. Need ceilings always be white? Certainly not! Try simply adding white tint to your wall color to get a lighter shade.
If you have a high ceiling and want to make the room feel more cozy by bringing the ceiling down, then use a darker tone on the floor and ceiling. If you keep the walls a light colour the room will appear wider as well.
By manipulating your room space with color, you can create a variety of effects. Want more great tile design ideas? Talk to the friendly staff at Tile Factory Outlet. They are experts in choosing the right floor tiles and colour any room. Check them out today!