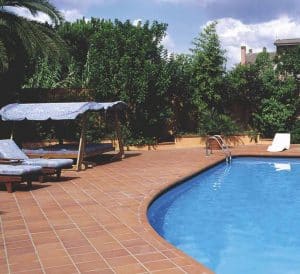 Terracotta is a term which means baked earth. It's a kind of material which is the main ingredient utilized in making tiles. In fact, this is the initial materials employed in many ceramic products from long ago. Really, this was already being employed by the ancient people of China and the Roman Empire. Over these times, terracotta was used for the water pipes and sculptures.
Right now, the popularity of terracotta tile is great. This tile is being used as a material to reinforce the look and interior of the home. With the versatility this tile can give it could be fixed in different rooms, like the kitchen, entertainment room, shower room and many more. This products comes in many colours, like salmon, pink, shades of brown along with other earthy colours that provide a relaxing look. You can find some terracotta tiles in reddish shades. The colour is actually possible because of the iron oxide used in the tile.
When you utilize a terracotta tile, it will produce a warm and rustic environment. Yet, still creates a warm and relaxing feeling. What you need to do will be to do some research. Once you find the alternatives available, you'll be fascinated of the qualities of this tile. There are various designs and colours available. You can even opt for the many different types available , such handcrafted, semi handcrafted or manufactured fully automotive.
The costs usually vary. This basically will rely on the designs and styles of the terracotta tile. The simpler versions of the tile are cheaper than the others. Yet, the ones with complex designs are more expensive. Depending your budget, you can easily pick the best one that will meet your requirements.
Terracotta tiles aren't as simple as it used to be to find. A place which still has them is Tile Factory Outlet, Go to
Definitely, terracotta tile is among of the best tiles you can aquire for your house. This is extremely accessible and you will find many selections in the market. The effects of this are amazing and you will love the feel of your home after installing the tiles.