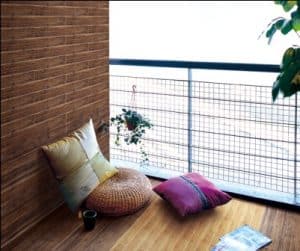 Choosing to install ceramic tiles in your home is an investment that will undoubtedly pay off in the long run. Not only does it help create a better-looking, more functional area, but it also raises the value of your home. In fact, many homeowners choose to re-do their bathrooms or kitchens with new ceramic tile simply because of the value it adds. However, if you're thinking of installing ceramic tiles, there are a few things you should know first.
If you don't know what ceramic tiles are, let me give you a brief overview – basically, ceramic tiles are made of an inorganic, non-metallic clay that's heated in a kiln. After they come out of the kiln, they are glazed once or twice to give it that shiny, water-proof seal.
It's important to note that while ceramic and porcelain tiles are similar, they are two different types of tiles. Porcelain tiles are made by pressing small dust-like porcelain particles into presses. The result is a denser, more water-resistance type of tile.
Choosing The Right Ceramic Tiles
Ceramic tiles come in practically every color under the rainbow and every design imaginable. It's important to choose one that's going to match the color-scheme of the area you want to install it in. If it's a complete tear down and re-do job, this will be easier as you can create the style and color as you go.
You'll find the sizes of porcelain tiles vary greatly as well. Some tiles are made of small, chicklet-style pieces, while others are large slabs. If you're using it for floor tile, make sure you choose a size that's going to be comfortable when walked on. Oftentimes, if you install ceramic floor tile that's too large, it can be slippery or uncomfortable to walk on. On the other hand, tiles that are too small can be equally as uncomfortable.
Ceramic tiles are great for many different locations. You can use it over the fireplace, in the living room, kitchens, bathrooms, and showers. Because of this, some manufacturers have begun making ceramic tiles especially for these locations. For instance, certain ceramic tiles made for fireplaces have an extra glaze over them to prove even greater heat resistance. See if you can't find a type of ceramic tile that's produced for your specific needs.
How To Clean Ceramic Tiles
One of the great things about ceramic tile is that it's easy to clean and maintain. The glaze process that's done during the manufacturing of ceramic tile makes it a breeze for anyone to clean. Just spray it down with some of your favorite bathroom or tile cleaner and give it a wipe down. Depending on how dirty the area gets, you shouldn't need to do this but twice a month.
If ceramic tiles are used a backsplash in the kitchen, it may require a bit more cleaning. In this case, it's suggested that you use a light scrubbing brush with a bleach-water solution to clean it.
Want to know the best place for ceramic tiles? Whether you are looking for tiles for your kitchen, bathroom or any room for that matter, the best place is TFO Tile Factory Outlet. They have over 60,000m2 of tiles ready for immediate pick up. So you are sure to find something that you will like. Visit their showroom or check out their online store today.